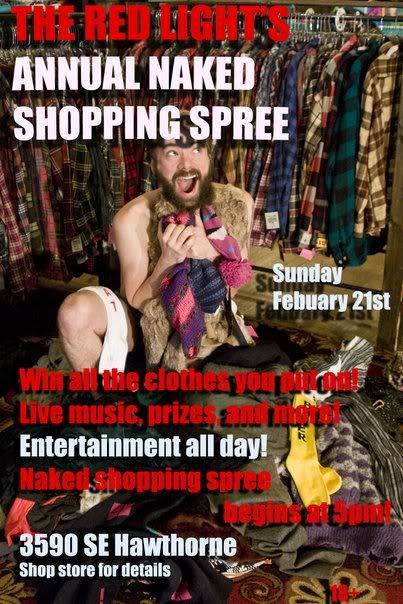 All customers (18 & over) who spend $20 or more* from now thru Feb 12th may enter in the drawing to compete in our famous Naked Shopping Spree. 4 contestants (2 girls & 2 guys) will be chosen from the raffle to compete.
On Feb. 21, the drawing winners will have the honor of running around The Red Light, totally naked in front of a cheering crowd of shoppers. The four contestants will have 3 minutes to put on as many clothes as possible – with the winner getting to keep everything on his or her body!
There will be additional prizes for all Naked Shopping Spree contestants, plus live music and other goodies to entertain the crowd!
For more info stop into the store,
visit our web site www.redlightclothingexchange.com
or our facebook www.facebook.com/RedLightClothingExchang
e