One of my mom's good friends,
Bernie Berlin
, runs a dog rescue down in Tennessee. She does two things:
1. Picks up dogs from high-kill pounds in the South and drives them to low- or no-kill shelters in the North.
2. Keeps dogs (and cats, turtles, peacocks, and chickens) in her house/yard pens and fosters them until they find permanent homes.
She does this by herself, and finances her animal-rescuing habit by selling art (!). But she'd like to do more.
Thus the pitch: Bernie is in a "charity competition" run by Kevin Bacon's Six Degrees Foundation and Parade Magazine. The competition is to see how many
individual donors
each charity can get to donate at least $10.00.
The top four charities will get FIFTY THOUSAND DOLLARS.
It's a lot of bang for your buck. You donate ten dollars and maybe it turns into FIFTY THOUSAND. Like when Mickey was sweeping in "Fantasia."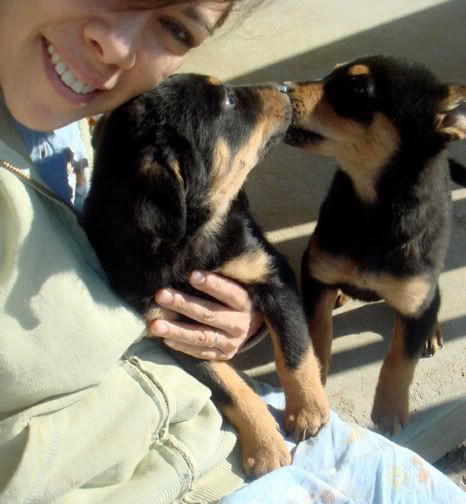 Bernie has gotten 1995 donations as of
right now
and is only NINE DONATIONS AWAY from a winning spot.
The contest ends today at noon (PST).
If you don't have ten dollars, or are not into dogs, I still like you, and apologize for littering damportlanders with solicitations. But if you'd like to tithe ten dollars to the puppies of Tennessee,
you can do it here
.
Bernie is really a fabulous one-woman juggernaut of dog saveration, and if she won this contest it would revolutionize her abilities.